Watch our Hair Transplantation Videos here...
Hair loss and hair transplantation
1. Who needs hair transplantation?
Baldness is a common problem these days. In males, it is graded into seven stages (Hamilton-Norwood Scale) depending on the extent of hair loss and into three stages in females(Ludwig). Hair loss and baldness are caused by various factors such as hormonal changes, genetics, and even environmental factors. People who suffer from hair loss or baldness look so much older and this can result in low self-esteem and depression. Also with hair transplantation, you can start to enjoy various hairstyles that show your forehead.
Male pattern Hair Loss- Seven Stages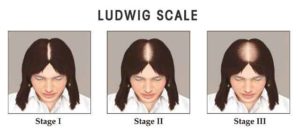 Female Pattern Hair Loss- Three Stages
2. What are the options in hair transplantation?
There are two types of hair transplant surgeries: hair restoration surgery and hairline correction surgery. The former treats people who suffer from hair loss and the latter treats people who wish to reconfigure their hairline. Although the surgery procedure involves the same expertise, the design process is different.
3. What are the types of hair transplantation?
Hair transplantation is one of the commonly performed cosmetic procedures. Generally there are two well accepted methods of hair transplant, FUT (Strip) method and FUE (Follicular unit extraction). Both these methods have their pros and cons.
                    The choice of either procedure depends on various factors including hair density, scarring tendency and extent of baldness. Both the procedures are done on daycare basis under local anesthesia. The procedure can last up to 8-10hrs depending on the individual client.
Facts and Myths about Hair Transplantation
Myth 1: Hair Transplantation results in a head full of hair
Fact: Hair transplantation is a procedure that basically re-distributes the existing scalp hair. Its main aim is to advance the anterior (Front) hairline for a younger appearance. It hence will only lessen the bald appearance. The result will, however, cover most of the balded areas once combed properly. Most advertisements (Some with photos) show a full head after transplantation which is not the case after the procedure. A youthful appearance and a lesser bald appearance is a more realistic expectation.
Myth 2: Hair transplantation can be done at any age
Fact: Hair transplantation is ideally done after hair fall stabilizes The exact age of the plateau is hard to define. It usually is around 25-35 years of age. In rare cases, hair transplantation is done at earlier stages due to social concern or extreme baldness. In case the hair fall continues even after transplantation, it can be managed with medical treatment or rarely with repeat transplantation.
Myth 3: FUE (unit extraction) method of Hair transplantation is superior to FUT (strip method) method
Fact: Hair transplantation is generally done by either FUT or FUE methods.
In FUT method a strip of scalp is removed, cut into small unites of hair and then transplanted into bald area. This leaves a long scar in the occipital areas (Back side of scalp) which may be visible if the whole head is shaved.
The FUE method involves extracting individual hair follicle and then transplanting them in the bald area. This leaves dot like small scar in the area from which it is extracted. The scar is far less visible even after full head shaving. Both the methods can yield similar results; FUE is superior only in terms of the scarring.
Myth 4: Hair transplantation can be scarless
Fact: No procedure of transplantation can be scarless. The FUE method only lessens the cars to multiple dots. These scars are less visible even when the head is fully shaved. Nevertheless, minimal scarring is expected.
Myth 5: Hair transplantation in ladies does not yield good results
Fact: When carefully chosen, ladies with baldness also get equally good results. Evaluating baldness in females is more extensive than in male individuals.
Myth 6: Laser hair transplant is now the best option available.
Fact: Laser hair transplantation is nowadays an over-hyped procedure. It is definitely not a new procedure. It has been around for many years now. People tend to think that using Lasers the results of transplantation will be better. In fact Lasers play only a minor role in the whole procedure of hair transplantation and hence final result is same or even better with conventional methods.
Myth 7: After hair transplantation hair starts growing immediately.
Fact: After transplantation most of the external hair falls over three weeks. The roots however continue to grow. To see the final results of transplantation, it may take anywhere between 4-8 months. Patience hence is important.
Myth 8: Transplanted hair requires life long care.
Fact: Once the initial period after hair transplanted is over, the hair can be treated normally, be it combing, coloring, hair-styling etc.
Myth 9: After hair transplantation, the hair should not be washed.
Fact: One or two days after transplantation the head can be shampooed normally. It is very important to keep the area clean to avoid infection. Regular care with shampoo bath is the best method.
Myth 10: Hair transplantation is a very painful procedure.
Fact: Hair transplantation world-wide is done under local anaesthesia. The area to be operated upon is made numb using various anaesthetic creams and injections. This amount of pain is generally well tolerated. Some set-ups have the additional benefit of monitored sedative injections during the procedure.
Hair Density
A major factor in achieving a natural look and the best hair transplant is determined by hair density. Hair density is measured in follicular units per square centimeter and it varies according to individual and by race. Normally the highest hair density ranges between between 70 and 120 follicular units per square centimeter.
Key to achieving density that is aesthetically pleasing is the ability to place follicular units close together. Specific cutting devices and blades that allow each follicular unit transplant site to be customized for size, depth and angle are used for the purpose. Doing this allows for dense packing with the highest level of follicular unit transplant survival.
While it is generally acknowledged that achieving a hair density that is 50% of the scalp's original density will lead to pleasing results, it depends on other factors. These include race, skin and hair color as well as original density. For some patients, a natural look of density may occur at 30 follicles per square centimeters. For others it can be as high as 50 follicles per square centimeter. The transplantation techniques used allow for density as high as needed—limited only by the size of the donor area.
Care after Hair Transplantation
"Hair growth is a gradual process". The statement remains true post-transplant as well..
The first weeks
Because hair loss restoration is surgery, 10% of patients can expect some mild swelling at the transplant site for the first few days. Patients can also expect to see very small crusts form at each follicular graft site. These normally slough off by the end of the first week. Any skin redness is usually gone by the first week and the scalp remains slightly pink for another few weeks.
If the patient has received a follicular unit transplant, the sutures at the donor site are removed at about 10 to 14 days. At about three weeks it is perfectly normal to be shedding hairs from the transplant follicular units. This is because the follicular units become temporarily dormant after any transplant procedure.
The first months
When the dormant period ends, hair loss restoration patients can expect to see some new hairs sprouting from the transplant area of the scalp. The time when this begins to occur varies greatly among patients. But, the average time is around three months. Over time, more and more hairs will sprout and they will be very thin at first and then grow thicker over time.
Six months to one year
By six months, the average patient is likely to see considerable new hair growth with about half the new hairs visible above the scalp. At six months about half the hair will be visible above the scalp. At nine months 75% of the hair will be visible. And from 10-12 months patients can expect to see the final results of their procedure. The transplanted hair will continue to grow for the rest of the patient's life. There is no need for special care or new visits to the doctor.
Dr. Sreekar is one of the best hair transplant specialists in Bangalore
Read more about Hair Transplantation in Bangalore: