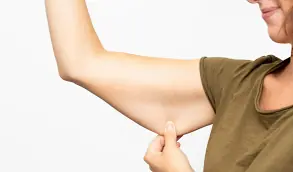 Arm Lift
Arm Lift and Reshaping is typically, drooping of the skin and fat in the upper arm occurs as a result of aging or significant weight loss. Diminished skin elasticity can cause the skin to hang loosely from the arm. Ideal candidates for this procedure are patients with moderate to severe skin laxity and stubborn fat deposits in the upper arm. The arm lift tightens the skin of the arm so that the arms are taut and slender. Because this incision is hidden on the underside of the arm, there is no visible scarring following the procedure. Arm lift results in improved arm contours that are smoother, more slender, and proportionate.
When loose fat and skin starts to sag in your upper arms, are there options to tighten this area? Arm Lift and Reshaping 
Dr. Sreekar Harinatha sees many patients who have excessive fat and skin in their upper arms "bat wings" from aging or excessive weight loss and often times. They may need arm liposuction or an arm lift (or brachioplasty) to remedy the problem. The procedure can dramatically reduce the appearance of hanging skin.
We believe that arm lift patients who have the best results have realistic expectations of what can be accomplished and are in good health.
Armlift surgery
is particularly helpful to people who have undergone massive weight loss after gastric bypass surgery or loss of skin elasticity in older patients.
At your consultation, Dr. Sreekar Harinatha will seek to understand what you want to accomplish from your arm liposuction or arm lift surgery. Make sure to be candid about your expectations and medical history as this will help us conduct proper evaluation. Based on your discussions and examination, Dr. Sreekar can then determine if the arm lift or arm liposuction is right for you. Depending on your situation, Dr. Sreekar may suggest liposuction be used alone or in conjunction with an arm lift to remove excess fat in the upper arms. He is one of the best
Cosmetic surgery & lasers treatment surgeon
in Bangalore.
The arm liposuction takes about 90 minutes and brachioplasty (Arm lift) procedure generally takes two to three hours to complete and is done on an outpatient basis.
Before & After