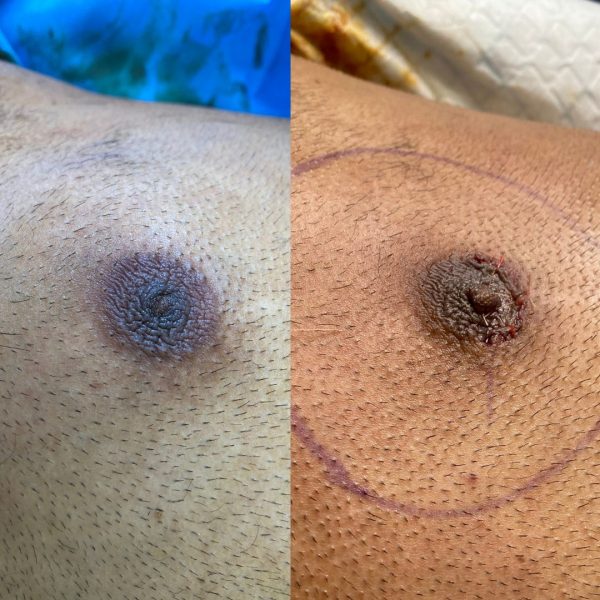 An inverted nipple is a condition in which the nipple of one breast or both breasts lies flat or points inward instead of pointing out. This can cause many men and women to feel self-conscious about their appearance.
Additionally, while many women with inverted nipples can still breastfeed their infant, there are some cases in which nipple inversion affects the baby's ability to latch correctly, causing trouble with feeding.
Some men and women are born with inverted nipples, while others may have this condition develop as they age. However, whether the nipple has always been inverted or it has occurred over time, inverted nipple surgery can help correct this issue.
Inverted nipple surgery is a procedure that can correct male and female inverted nipples and restore a more natural and aesthetic look that boosts confidence and self-esteem.
The board-certified surgical expert Dr. Sreekar Harinatha has years of experience in correcting cosmetic issues such as inverted nipples and will look forward to helping you look and feel the way you want.
How is an Inverted Nipple Correction performed?
Inverted nipple correction is an outpatient procedure that takes 30 minutes. For your comfort, it is performed using either local anesthesia or light sedation.
Dr. Naidu will make tiny incisions on your areola to release the tissue pulling your nipple inward. Once the tissue is released, your nipples will naturally protrude outward. Fine sutures are used to hold your nipples in their new position.
Am I an ideal candidate for an Inverted Nipple Correction?
You are an ideal candidate for inverted nipple correction if you feel self-conscious about your inverted nipples and do not intend to breastfeed in the future. You must also be in good health and preferably a non-smoker.