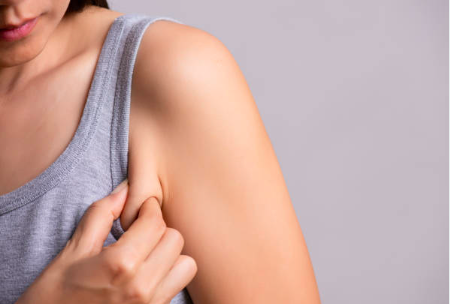 May women complain of unsightly bulges in the armpits. They assume its accumulation of fat and focus on workouts or sometimes just try to hide it by wearing loose clothes. It is only when they consult a plastic surgeon that they realize the existence of  'Axillary breast' or something often referred to as 'Axillary tail of Spence' or 'Hyertrophied tail of breast' or 'Accessory breast tissue'.
Accessory axillary breast tissue can have more than cosmetic considerations. It can become symptomatic and cause pain, restrict arm movement, increase in size, and undergo the same pathology that occurs in normal breast tissue, including breast cancer. It especially tends to be painful or tender during pregnancy.
Dr. Sreekar Harinatha can treat such axillary breasts in Bangalore by using a well-hidden incision in the hairy area of the armpit. Such procedures take around 30-45mins depending on the amount of the tissue. It can also be done under local anesthesia or sometimes under short general anesthesia. In some instances, it can be combined with arm liposuction for better overall contouring.
📞 Schedule a consultation by calling 7022543542 📞
Get treatment for Axillary Breast in Bangalore by the best Plastic Surgeon!
__________________________________
💻Details of the procedure are as follows:
✅Duration of procedure: 45mins
✅Duration of admission: One Day (Daycare basis)
✅Return to work: 2 days
__________________________________
📍 Contura Clinic, Kalyan Nagar, Bangalore
📱 Mobile: 7022543542
💻 conturacosmetic.com
📧 [email protected]
✅ Whatsapp: 7022543542
__________________________________